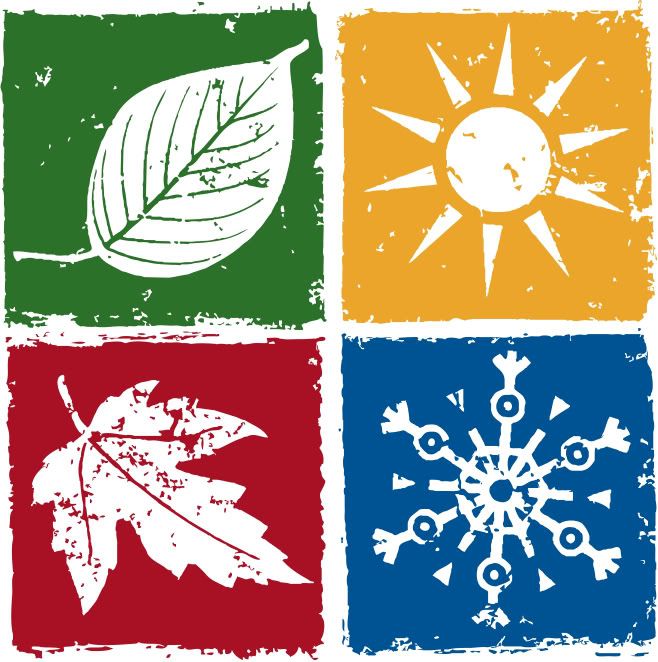 I love Seasons. One of the only things I love more than Seasons are Holidays, because they seem to

embody

a certain season, concentrated on a particular date, that gives us an excuse to decorate & host parties & associate sights & smells & tastes with that particular day.

Just close your eyes and think about the 4th of July: sand & sunshine, the sm
ell of sunscreen & BBQ, and the taste of watermelon
. Or Easter
: little girls in pastel dresses, grass under high heeled shoes, the vinegary smell of dyeing Easter Eggs & the taste strawberries with whipped cream.

Even though we live in California, and the passing of the seasons looks more like switching from bikinis to wearing scarves with your tank tops, rather than a shift from raking leaves to shoveling
snow... even still, I love that subtle transition from one season to another. I love going to a
Farmer's Market in late Spring, and seeing berries, corn & peaches overflowing from the carts, and I confess that I get a little giddy & my voice goes all squeaky in the Winter when I see that Eggnog Lattes have made it to the menus of my favorite coffee houses. Yes, I suppose that Seasons are just a marketing ploy in California, bu
t I'm a happy consumer, none the less.

Since we've moved to Northern California, I have actually experienced a tangible change in the seasons every year, and there are many
months where one can usually find me curled up
in our hallway, fighting our dog for room in front of our one, ill
-placed heater.


Despite the fun of sand & watermelon, and despite my complaints about the cold in our drafty apartment, I have to say that this is, without a doubt, The Most Wonderful Time of The Year. When Halloween decorations start popping out & I get the uncontrollable urge to eat candy corn & carve pumpkins, a clock starts counting down in my mind. Yes, I love Halloween, and Thanksgiving

is

the most delicious meal of the year, but I can't help the feeling of impending Joy as Christmas approaches.

The other night, Chris & I came home from work at around midnight, and as I dragged myself through the door, I dug the mail out of our overstuffed mail box. Suddenly, my fatigue left me, as
Martha Stewart arrived in her full
Christmas Glory on the cookie-filled pages of her magazine.
Ever since then, the sky has been bluer, Chris has become increasingly charming & wonderful, buying a car sounds like a whole lot of fun, and my heart feels light & happy. Oh, Christmas, how I love you.

In a few days, we will drive down to Southern California for a conference, followed by days & days of zipping around Orange County freew
ays, stuffing ourselves at numerous Thanksgiving feasts, as well as buying a new car. And, I tell you, I couldn't be happier about it. Hooray for seeing friends & family; Hooray for turkey & cranberries & pumpkin pies; Hooray for baking till our fingers fall off. Who cares that it's 90 degrees in LA right now with Santa Ana winds? Thanksgiving is here, Christmas is on it's way, and the Season is Bright.

You might have noticed that I tend to experience Seasons & Holidays particularly through food. I hope there's not an unhealthy fascination there-- although I definitely know that eggnog lattes are unhealthy. My two new favorite late-Autumn/Early-Winter meals are shared below... neither of them are too terrible unhealthy. Enjoy-- and happy Christmas Season Eve.



Roasted Vegetable Salad

:
2-4 servings

Make a trip to Trader Joes & buy the following: 1 bag of pre-cut

Butternut Squash

or

Sweet Potatoes

, 1 Bag of mini-

Zucchini

, 1 bag of baby

Carrots

, 1 tub of

Grape

Tomatoes

, 1

Onion

, 1 head of

Garlic

, 1 tub of

Goat Cheese

& one bag of

Mixed Greens

.
Preheat oven to 400 degrees
In a baking dish, toss the

Butternut Squash/Sweet Potat

oes

,

Zucchini

, 1/2 the

Carrots

, a handful of

Tomatoes

, 1/2 a sliced

Onion

, 5 whole cloves of

Garlic

with a few glugs of

Olive Oil

, a few splashes of

Balsamic Vinegar

,

Salt

&

Pepper

. Bake for 30-45 minutes, until the carrots and butternut squash are tender.
Divide 1/2 the

Salad

mix on plates, and spoon roasted veggies on top, using the extra juices as salad dressing. Sprinkle with a little

Goat Cheese

& enjoy!

Green Onion Risotto
(from Epicurious)
2-4 servings

Ingredients:
4 cups (or more) low-salt chicken broth
2 tablespoons (1/4 stick) butter

(I use less)

1 bunch green onions, white parts finely chopped, green parts thinly sliced
1 cup arborio or medium-grain rice
1/2 cup dry white wine
1/4 cup freshly grated Parmesan cheese
2 tablespoons Fat Free Half & Half

(from Trader Joe's)
Preparation:
Bring broth to simmer in medium saucepan over medium heat. Reduce heat to low and keep warm.
Melt butter in large saucepan over medium heat. Add chopped green onions and cook until soft, stirring often, about 6 minutes. Stir in rice. Add wine; cook until almost all liquid is absorbed, stirring frequently, about 2 minutes. Add 4 cups broth, 1 cup at a time, cooking until almost all broth is absorbed before adding more, stirring frequently, until rice is tender but still firm, about 20 minutes. Stir in sliced green onions, Parmesan, and Half & Half. Add more broth by 1/4 cupfuls as needed if dry. Season with salt and pepper.
**You can also serve 4 people a yummy, filling meal by combining these 2 recipes-- there should be more than enough, 'cause this is a super filling, vegetarian meal =)