Some of the greatest merits of making homemade cookies are as follows: eating the cookie dough out of the bowl, the smell & anticipation while the cookies are baking, and that first bite of an [almost too hot to handle] mushy, gooey cookie straight out of the oven. Plus, everything just tastes better when you've made it yourself.

Now, I have to say that I'm pretty passionate about my chocolate chip cookies-- they're tough to beat. That's not to say that I'm not willing to branch out and take some risks in the cookie making department (I know, I live life on the edge). However, sometimes I surprise even myself.

My new favorite-- you might even call it a bit of an obsession, as I have made them twice in the last few days, and am contemplating making them again-- is a cookie that: 1) You can't eat the dough, 2) You can't smell baking in the oven, 3) You can't eat hot, and 4) Doesn't even involve butter. I know, you're less than intrigued, aren't you??

These mysterious new gems that have found a soft spot in my heart are meringues called Nighty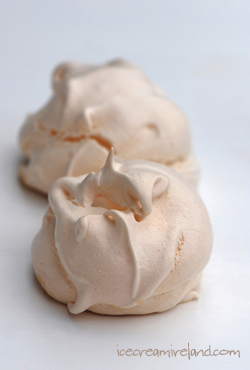 Night Cookies-- something that my mom used to make, and for some strange reason, I used to turn my nose up at.

You preheat the oven, whip up the batter just before bed, throw them in & turn off the heat. When you wake up in the morning, it's tough not to eat a dozen cookies for breakfast. They are like marshmallows that have died & gone to heaven-- glorified & perfected little soft, crumbly vanilla pillows, flecked with chocolate & nuts (if you want-- and trust me, you do). They are light, amazingly delicious, simple and addictive. In fact, I think I'm going to stop writing about them, and go eat one-- there's only 4 left, and I don't want to give Chris the satisfaction.

Oh, and here's the recipe:
-2 egg whites
-a pinch of salt or cream or tartar
-2/3 cup sugar (I like to use just a little less)
-1tsp vanilla
-2/3 cup chocolate chips
-2/3 cup chopped nuts (walnuts, pecans)

Preheat oven to 400. Spray/grease a baking sheet (2 if you want to double the recipe-- which you do). Beat egg whites on low in a clean mixing bowl until foamy. Add a pinch of salt/cream of tartar. Beat on medium until soft peaks form. Keep beating, adding sugar, one Tbs at a time (about 20 seconds in between each addition), until stiff & glossy. Add vanilla & beat about 20 more seconds. Gently fold in chocolate chips & nuts. Drop batter in Tbs sized mounds on baking sheets (with about 1 inch in between). Throw them in the oven &

turn off the heat

, leaving the cookies overnight, or for at least 6hrs.

Don't peak or open that oven door

!!
Enjoy!