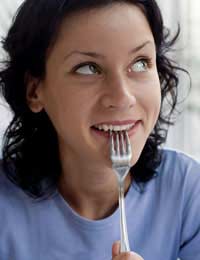 I realize that this is not a foodie blog (despite how much I love to read them), but with a new-found ability to eat (hooray for the second trimester!), I find myself thinking about food...

a lot

. Actually, to be totally honest, I have been thinking about food more than a healthy, normal person ever since getting
pregnant-- especially during those long, sleepless nights after not being able to eat all day.

I lie awake and plan dinner menus, think of restaurants I want to spend
fortunes on
,
and come up with elaborate party themes (and of course, the food I would serve at them). It's kind of sick, like food pornography playing in my mind.

Sometime around last week, I realized that I was able to eat little bits of
food that I hadn't been able to before (which had been a list about a mile long, consisting of about everything that wasn't a cracker), and my little mind went crazy. Oh, the joy of cooking, and even better, the joy of

eating

. A combination of refraining
from food for so long, and my hyper-sensitive pregnant nose seemed to make everything I ate taste like the nectar of the gods. So, of course, I have this poverty mentality ingrained in me now, and every time food is within reach, I try to eat everything I can-- until Chris notices & scolds me for making myself sick.

And of course, after feeling like a hermit from being confined to the couch for so long, my very first instinct is to throw a party. My first desperate clutch landed on Super Bowl Sunday. Nachos,
homemade pizza (Chris makes a mean pizza), little brownies shaped like footballs... just thinking about it made me salivate. The problem is that we don't have a TV (that is, we don't have a TV that actually shows TV), and no one we knew was having a Super Bowl party.


Well, not to worry. The plan is to scurry out after church today and buy a set of rabbit ears. If it works, well then, we're watching the Super Bowl [commercials], and having ourselves a party. If not-- no problem, I am determined to make (and thoroughly enjoy--

and

probably get sick from) a huge platter of nachos, brownies shaped like footballs, and homemade pizza.

You're welcome to join us, and cheer for the...um... Saints. Or the... Colts(?). Or the nachos, as I will be doing.



Best Ever Nachos:


-1 16oz. can Ducal re-fried black beans*
-1 bag Casa Sanchez thick & crispy tortilla chips**
-1 carton Casa Sanchez salsa verde**
-
-1/4lb. cotija cheese, shredded or crumbled*
-1 tomato, diced
-1-2 avocados
-1-2 limes
-teaspoon ground oregano (approx)
-teaspoon salt (approx)
-small bunch cilantro, chopped & 2 green onions, white parts diced (optional)
-sour cream (optional)

Instructions:
-Pre-heat oven to 200
-Spread 1/2 of chips on a large, oven-proof platter
-Dollop 1/2 of black beans & cheese over chips
-Cover with remaining chips, black beans & cheese
-Place platter in oven for about 10-15 min, or until cheese is melted & chips have browned slightly
-Slice avocado, scoop out flesh into a bowl, and mash with a fork. Add lime juice, salt & oregano to taste. If desired, add chopped cilantro & green onions
-Remove platter from oven, & top with guacamole, sour cream, diced tomatoes & salsa.
-If you prefer a meatier version, grab a rotisserie chicken, chop up some of the meat & fry it in lime juice. Add to top of nachos at end.

*available at Latin markets
**sold in San Francisco at grocery stores, Latin markets, and at their restaurant on 24th & York

Post Template